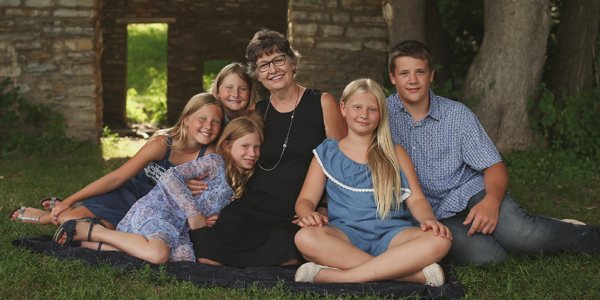 Sue Kolling is giving back to the place she calls home. She has volunteered in her community and at work, raised her two entrepreneurial sons, and now enjoys time with her grandchildren who are close to her in Spring Valley. This is just the beginning of the legacy she will leave. Kolling has left a bequest to Spring Valley Area Community Foundation (SVACF) and Southern Minnesota Initiative Foundation (SMIF) that will impact the community and region for years to come.
Kolling's dedication extended not only to her community life but also to her work life. "I started right out of high school in banking (Home Federal Savings Bank) and 47 years later I retired from there," said Kolling. "I worked for some amazing people that were great mentors. The founder of the bank, John Osterud, left a lasting impression on how important it was to not only live in a community but to be part of that community by not only volunteering one's time but also by supporting local causes financially."
After actively participating on various boards in her community for many years she was instrumental in the launch of SVACF, an affiliate fund of SMIF, to support the longevity and vibrancy of where she grew up. She led the volunteer board for six years to support a robust launch. Now her legacy will live on through her bequest.
Kolling's roots run deep in this community. Her mother still lives on the nearby family farm, two brothers and three sisters live in the area with their families, her two sons have started or work at local businesses and her five grandchildren and two daughters-in-law remain in Spring Valley. "I have been blessed to be able to travel and see different parts of the world," said Kolling. "The sights, the sounds, the food, the culture it all intrigues me and one learns there are beautiful places all over the world but there is no utopia, every community deals with the same challenges and has the same wishes, for their quality of life, hope for their children and grandchildren. When I travel its great but there is such comfort in coming back home."
Giving comes naturally and Kolling attributes that to her parents. When Spring Valley needed to raise a significant amount of money for their public library Kolling made a gift in memory of her husband. Now when her grandchildren go the library they see their grandfather's name inscribed on the memorial wall alongside the donor's names. They never had the opportunity to meet him but this helps connect them to him. Kolling also was one of the original founders of the Spring Valley Area Community Foundation, to help launch the fund.
Kolling got to see the amazing work that SVACF is doing to support the local community through grants and programming. "I believe that the community foundation is so much more than just Spring Valley, we are regional and SMIF does an amazing job of supporting our region."
Kolling is an annual supporter of SVACF and SMIF and has been for many years. She wanted to accomplish more. "With a career in banking I work with so many clients and they would share with me their goal to leave money to their church or their community," said Kolling. "Or they really believe in and want to support a certain cause or project. But so often those words were said but they never memorialized their wishes or let their family know their intent. I believe it is the responsibility of each generation to invest in the future of the next generation and making a planned gift allows me to be part of that."
Kolling instills the role of philanthropy in those around her, especially her grandchildren. "When SVACF was just starting, the board members would walk in parades and hand out information, I made sure to have my grandchildren walk as well. This is their community and their future and they learn by example. I hope that when they are old enough and start their careers that our local region will offer them the opportunity to live work and grow their families here."
Sue Kolling served on SMIF's board of trustees for six years. SVACF is 1 of 30 community foundations and an affiliate fund of SMIF.
Learn more about Planned Giving